May 30, 2012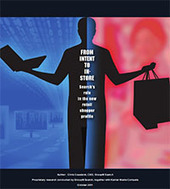 With the connection of AdWords to Google+ Pages via Social Extensions, Google is enticing advertisers to build a presence on the site.
As expected, Google continues to advance its efforts to make Google+ a success as it further integrates the social platform into its core products to encourage adoption and increase activity. With the recent connection of AdWords to Google+ Pages via Social Extensions, Google is enticing AdWords advertisers to build a strong presence on the social site.
By enabling Social Extensions, consumers will be able to see all recommendations a brand has received, whether they are viewing a paid ad, a search result or your Google+ Page. There are currently two types of Social Extensions: Personal and Basic. Personal shows you the number of people within your Google+ Circle who have +1'd your landing page or your Google+ Page, while Basic shows how many people across the web have +1'd your page.
Read more: http://bit.ly/KUBskC
See on groupmnext.com
I am a NETWORKER and SOCIAL MEDIA GEEK. Entrepreneur and autodidact, I like freedom, talk about interesting stuff, music, travel, lifestyle and much more!

Active as entrepreneur and convinced autodidact for over twenty years, I choose since many years networking and social media activities.

Throughout this long period I was active in the commercial sector; insurance, real estate, health, well-being..., a wide range of knowledge, where I gained a lot of experience, expertise and know-be! Today, my main objective is to develop a global activity (Networking - Social Media - People Building) with people who have the same vision of life and quality of life to have success together!

If you need support to develop a strategy for your online presence, feel free to CONTACT ME!
Latest posts by Martin Gysler (see all)
0