May 29, 2012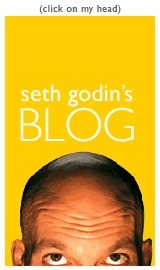 For all those who are about to create their startup, this article about the name of the company is an essential and important. [note mg]
For a long time, I didn't like my name. I spent more than 30 years spelling both my first and last name in school and on the phone. It didn't help that I had a little trouble with my S's when I was a kid.
Of course, now I think it's fantastic that my grandfather overruled my mom when she wanted to name me Scott. (I think he had an issue with the branding of a type of toilet paper, but that's a different story).
Scott's a tough name in the Google world. Mark is even tougher. Michael is probably toughest of all.
We went through a lot of hoops in naming Squidoo. I realized as I was explaining the process to a friend the other day that the same logic applies to any product or service or company in our bottom-up world, so here goes:
Read more: http://bit.ly/K9Anaq
See on sethgodin.typepad.com
0