May 3, 2012
See on Scoop.it – internetbillboards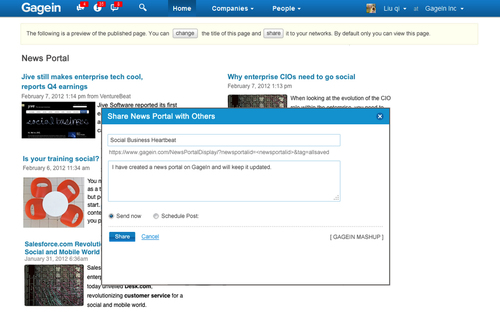 Excerpted from the article by Marketwire:
"GageIn, the first stop for all enterprise data on the Web, launched News Portals today. Professionals can now publish curated business content, on an on-going basis, to share insightful information about their marketplace, customers, and competitors, leading to improved business performance.
"GageIn brings curation to the enterprise, allowing internal teams, marketers, and other professionals to utilize it for business purposes," said Dr. Luosheng Peng, CEO of GageIn.
Who can use News Portals?
– Marketers: Curate stories about your industry, market trends, and educational articles for your audience
– Corporate Communication/Competitive Intelligence Professionals: Curate stories about your top competitors, clients, and industry for managers and co-workers
– Sales: Curate stories about clients and prospects for your selling team
Users can create their personal Portals by saving and tagging any content they find on GageIn. Portals can be shared internally with coworkers and teams, or with outside networks on Facebook, Twitter, and LinkedIn. Per GageIn's integration with Salesforce Chatter and Yammer, users will also be able to share Portals with teams on those platforms as well…."
Read full article by Marketwire: http://www.marketwire.com/press-release/gagein-launches-business-content-curation-for-professionals-1652155.htm
Try out it now: http://www.gagein.com/publisher
Tutorial: How to create a News Portal: http://www.gagein.com/blog/2012/04/tutorial-how-to-create-a-news-portal/
See on www.gagein.com
Founder and CEO of Internet Billboards. A futurist and serial entrepreneur, as well as a professional fitness trainer, martial artist, and business strategist. Helped to develop inbound advertising. An avid content curator who enjoys finding those digital gems out there in cyberspace and sharing them with others.
Latest posts by Tom George (see all)
0