Apr 28, 2012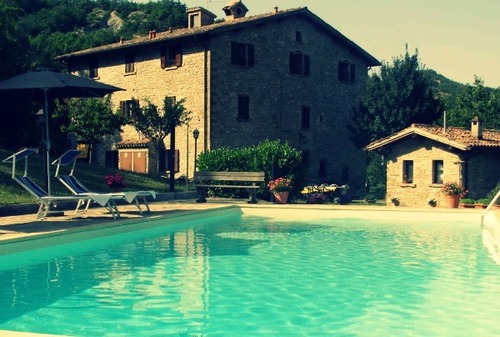 La Tavola Marche is hosted by a young passionate American couple Ashley and Jason Bartner. After years of travel and eating their way through every state and country they visited, jason & ashley decided to share their love for food with others in this unique way They live in Italy year-round and are proud residents of Sant'Angelo in Vado, Italy. Jason is always happy to show guests the tricks of the trade in his kitchen and Ashley, a hospitality professional and host extraordinaire, has a knack for making guests feel right at home.
Chef Jason Bartner takes the ego out of cooking by creating simple, seasonal dishes from the farm to the table at his organic farm & cooking school in central Italy. Jason is a professional chef & culinary instructor with over 15 years of high-end culinary experience in San Francisco, New York City, Amsterdam & Italy. Jason studied at the prestigious French Culinary Institute in New York, training with culinary legends including Jacques Pepin, and has a passion to cook for anyone with an appetite.
However it wasn't until he moved to Italy & founded La Tavola Marche Agriturismo, organic farm, inn & cooking school with his wife Ashley that his niche took hold. His cooking is influenced by the Slow Food philosophy and he does his best to lead by example, only cooking what is in season and locally grown, thus supporting the local economy. La Tavola Marche is founded on our feelings that food is the most accessible, and one of the most unique and enjoyable ways to get to know a new destination. Culinary experiences not only enhance traveler's enjoyment through pleasing their taste buds, but also allow for an immediate immersion into the local culture.
"I am now a proud organic farm, I grow my own food & am amazed at the sense of pride that brings. There is nothing more basic than returning to the kitchen with a full crate of veggies fresh picked from the garden – ready to create dinner!"
Ashley Bartner, his wife, wear's many hats: food & travel writer, host-extraordinaire & free-range chicken wrangler on the farm. Ashley writes a monthly column "Field to Fork" for Taste Italia and wrote for two and half years for Italia! Magazine on their everyday adventures of life in Le Marche and contributes to numerous other food & travel publications. She is also proud to be named to the Board of Directors for The International Culinary Tourism Association, continuing her efforts to promote culinary tourism.
Ashley is charismatic and has a passion for life! She will make you feel at home immediately, like you are an old friend, while Jason helps you connect with the locals through the food.
Join Jason and Ashley on their blog: http://www.latavolamarche.blogspot.it/
See on www.latavolamarche.com
Tags: Ashley, French Culinary Institute, Italy, Marche, New York, New York City, san francisco, Taste Italia
I am what I do: Curation, Social Media Marketing, Triathlon, Travelling, Real Estate.
I am passionate about Le Marche Region in Italy, follow me to discover it.
Latest posts by Mariano Pallottini (see all)
0