Mar 17, 2012
Via Scoop.it – Pervasive Entertainment Times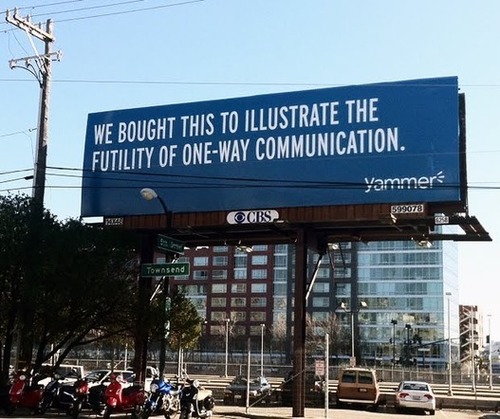 How many tweets go ignored? How many Facebook statuses? Voicemails? Emails? Post-it notes? Everything is one-way until an audience responds. A response could be visiting a website mentioned in an interesting tweet, buying an item promoted in an email, calling a phone number from a direct mail piece or even just being more aware of a brand seen on a billboard. Social media hasn't put a nail in the coffin of old media. It's simply made it easier and cheaper to throw around thousands of one-way communications in the hopes that one of them sticks.
So Yammer can try to say old media is obsolete all they want. Myriad outdoor campaigns prove otherwise. I suspect most of their email marketing and social media tactics have gone relatively ignored until now. It took old media and a debate-inducing message to get the most attention they've probably seen in a long time. So congratulations to them on stirring the pot and getting some attention. This billboard is probably working like gangbusters.
Founder and CEO of Internet Billboards. A futurist and serial entrepreneur, as well as a professional fitness trainer, martial artist, and business strategist. Helped to develop inbound advertising. An avid content curator who enjoys finding those digital gems out there in cyberspace and sharing them with others.
Latest posts by Tom George (see all)
0