Feb 19, 2012
Via Scoop.it – Contentmarketing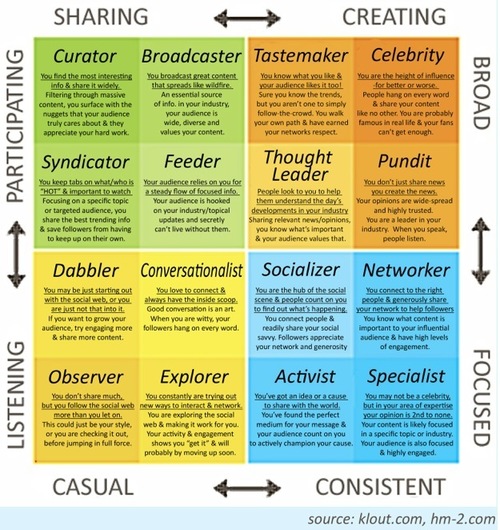 Robin Good: According to Klout there are at least 16 different types of online influencers, ranging from those who love to actively share and participate, to those who more quitely like to explore, observe and report.     The Klout Influence Matrix identifies these specific 16 types: Curator Broadcaster Syndicator  Feeder Tastemaker Celebrity Thought Leader Pundit Dabbler Conversationalist Observer Explorer Socializer Networker Activist Specialist   Source: Klout.com Full image matrix: http://www.jkspeaks.com/wordpress/wp-content/uploads/2011/10/klout-influence-matrix2.jpg 
   As in my case, you may likely feel that you belong in more than one of these categories.
  What matters is your ability to develop greater sensitivity for the differences that make up these profiles and to cull more attentively those that you feel are closer to your character and objectives.
  Check also Lisa Barone, co-founder of the firm Outspoken Media (New York), who in contrast, proposes a simpler list in Small Business Trends: The Five Types of Influencers On The Web.
Interesting. 8/10
(Thanks to Raymond Morin) 
Via socialmediatoday.com
Founder and CEO of Internet Billboards. A futurist and serial entrepreneur, as well as a professional fitness trainer, martial artist, and business strategist. Helped to develop inbound advertising. An avid content curator who enjoys finding those digital gems out there in cyberspace and sharing them with others.
Latest posts by Tom George (see all)
0